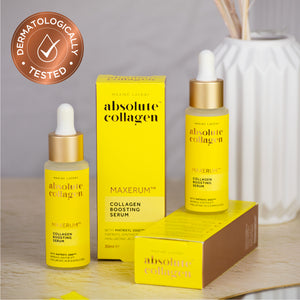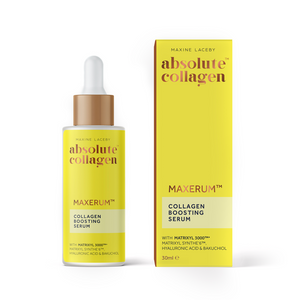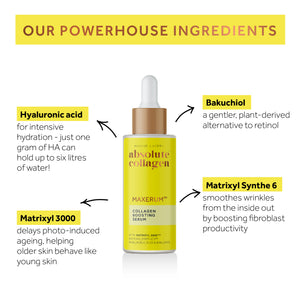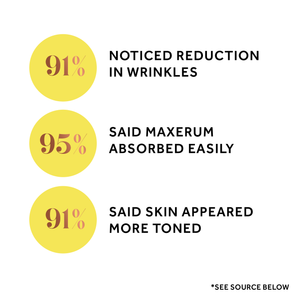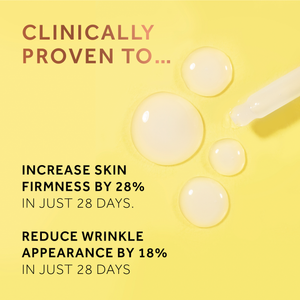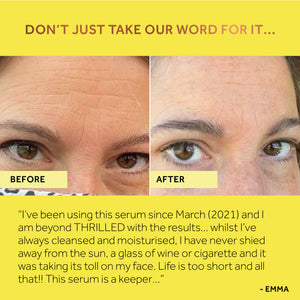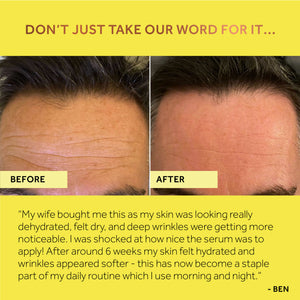 Collagen Booster Serum With Hyaluronic Acid
Regular price
---
€26,99 WHEN YOU CHECKOUT WITH
A NEW COLLAGEN SUBSCRIPTION
USE DISCOUNT CODE ABSOLUTER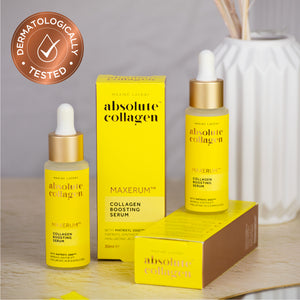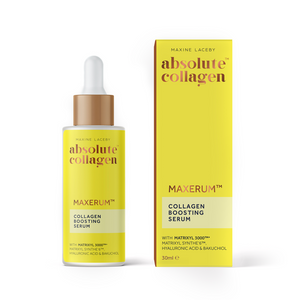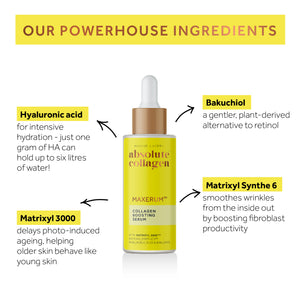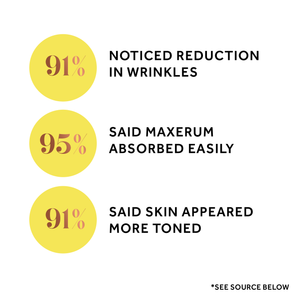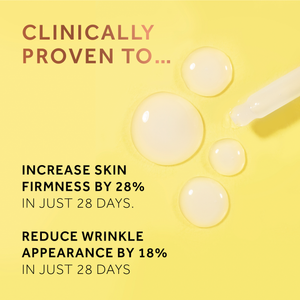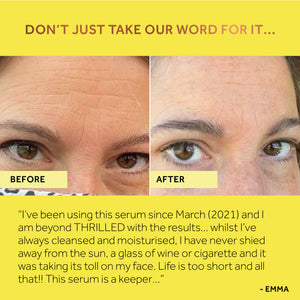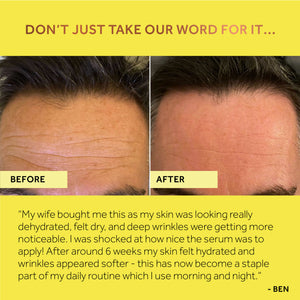 For Youthful, Radiant & Dewy Skin 
Searching for the ultimate product to plump and protect your skin, as well as prevent signs of aging? Well, look no further. Our wonderful CEO, and the Queen of Collagen herself, Maxine Laceby has created Maxerum™ - a dermatologically tested and clinically proven collagen booster serum which contains the perfect blend of superstar ingredients for your skin.

Our 30ml bottle contains beauty must haves Matrixyl 3000  ™, Matrixyl Synthe 6  ™, bakuchiol and hyaluronic acid. Clinically proven to boost collagen and fill wrinkles, Matrixyl 3000™ will help you on your way to a fresh faced, beautiful complexion, whilst hyaluronic acid will help to plump and smooth your skin.
A clinical trial found that Maxerum™ reduces wrinkles by 18% and increases skin firmness by 28% in just 28 days. What's more, our product boasts a divine lavender and rose geranium scent.
For maximum anti-aging effects, why not try our collagen building serum in conjunction with our award-winning marine collagen supplement?

With Matrixyl 3000, aging skin actually starts to behave like young skin. In fact, in a study by Croda, Matrixyl 3000 delayed photo-induced aging by 5½ years in just 2 months. Included at 3%.
Matrixyl Synthe 6 is another clinically proven ingredient - proven to even out our skin and smooth wrinkles by rebuilding the skin from the inside out. In a study by Croda, participants saw a 105% increase in fibroblast productivity, notable because fibroblasts create collagen, elastin and fibronectin.

Bakuchiol is a new, natural alternative to retinol which avoids some of retinol's common side effects such as photosensitivity, dryness, peeling, and redness. This plant-based alternative can be used during the day, while still replicating retinoid binding mechanisms.

Finally, hyaluronic acid delivers ultra smoothing hydration that soaks into skin without any oiliness. Our own skin cells actually produce hyaluronic acid naturally in a bid to maintain moisture levels. Fun fact: just a single gram of hyaluronic acid can hold up to six litres of water!
How To Use Collagen Serum
Apply a small amount to the face, morning and night, after cleansing. Allow the product to fully absorb before applying moisturiser. For best results use alongside our Marine Collagen Supplement. 
Is It Suitable for all Skin Types?
We have many customers with all skin types using our product, however, as with any new product we recommend you carry out a patch test prior to using. Apply a small amount of product to the inner elbow for up to three days; should you experience any redness, irritation or discomfort during this period, then we would not recommend use of this product.
It's important to note that Maxerum is not a lightweight serum, as it is densely packed full of active, natural ingredients. We deliberately chose not to add additional chemicals to the base that give lightweight serums their lightness, as we wanted to keep it as natural as we could. As such, you may notice that Maxerum has a slightly sticky texture when applied to the skin compared to other serums you may be used to - this is normal, and just means you should wait until it has fully been absorbed before adding your favourite creams, SPF, and makeup. Also, remember not to over-apply; a little bit of Maxerum goes a long way!

Collagen Serum Ingredients
Aqua (Water), Glycerin, Xanthan gum, Palmitoyl Tripeptide-38, Hydroxypropyl Cyclodextrin, Phenoxyethanol, Butylene glycol, Bakuchiol, Lactic acid, Pelargonium graveolens flower oil, Hyaluronic Acid, Ethylhexylglycerin, Lavandula Angustifolia Oil, Citronellol, Linalool, Carbomer, Geraniol, Polysorbate 20, Citral, Limonene, Palmitoyl Tripeptide-1, Palmitoyl Tetrapeptide-7. 

Allergens
Contains Citronellol and Citral (present in the Pelargonium graveolens flower oil) and Linalool, Geraniol and Limonene (present in the Pelargonium graveolens flower oil and the Lavandula Angustifolia Oil).

Collagen Serum Reviews
Our loyal army of #Absoluters are loving our new collagen enhancing serum. Don't just take our word for it though, see what they have to say below!